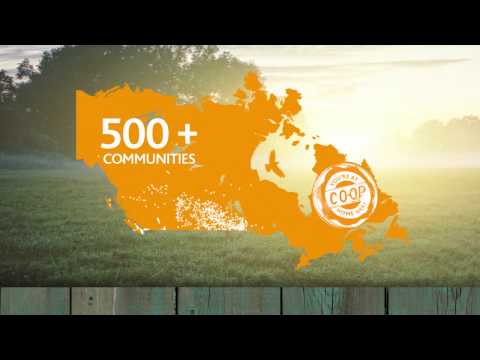 LATEST NEWS
Co-op is pitching in to help expand an important community hub in Duncan....
Download 2017 Mid Island Co-op Spring Sco-op Newsletter - PDF...
Welcome to Mid Island Co-op
Mid Island Co-op was

created by mid Vancouver Island citizens in 1959 as a socially responsible way to provide themselves with goods and services. This website is created for
Co-op members and community members who want to know what membership in a co-operative entails.
Located on Vancouver Island, BC, Mid Island Co-op has been in business since 1959 and
was created by local citizens as...
Building Sustainable Co-op's
Over the years, Co-op has been at the forefront in investing in efficient and sustainable technologies at its retail gas bars, convenience stores, car washes and bulk fuel plants.
This evolution has resulted in lower energy costs, decreased water use and less risk to the environment from leaks. "We continue to investigate and implement design features that contribute to more sustainable Co-op facilities in Western Canada," said Chris Ross, Construction Manager in the Petroleum Facilities Department.
Great lighting:Co-op continues to adopted LED lights for gas bar canopies, car

wash interiors, convenience store exteriors, yard lights and convenience store interiors. These lighting improvements ensure a well-lit area for our customers and employees, reduces our power usage while also saving money on electricity.
Conserving water:In an effort to reduce water use at our facilities Co-op uses low flow toilets and Co-op is also investigating the use of water reclaim systems on our new car wash designs. These systems show promise of reducing fresh water use by 50 per cent while not impacting wash quality.

Avoiding leaks: All new gas stations and bulk plants feature three levels of protection to contain petroleum products and keep them out of the environment. This saves money on costly cleanups and shows leadership in our communities.

Supporting community isn't a marketing tool at the Co-op: it is one of the seven International Principles upon which...
Work at a Mid-Island Co-op Location
Stay up-to-date on our job opportunities. Gas Bar, Cardlock, and Retail stores located across Vancouver Island.
Fuel Prices and the Co-op
When gas prices increase no one likes it. Some Co-op customers have suggested that Mid Island Co-op should not follow when our competitors raise their prices. While this strategy may yield short term benefits in terms of increased business, in the long term it could be very harmful to your Co-op. Our small locally owned company is not a large enough force in the greater marketplace to drive the gasoline pricing. If we were to be perceived by the large multi-national competitors to be engaging in a "price war", their much deeper pockets would ensure that they survived far longer than Mid Island Co-op. We believe that it is not in the best interest of our members, our staff or the Co-op to engage in this type of activity. Our pricing strategy is to be competitive in our markets with the goal of returning annual savings back to our members each year.